______________________________________________________________________________________________________________________
November is Native American Heritage Month!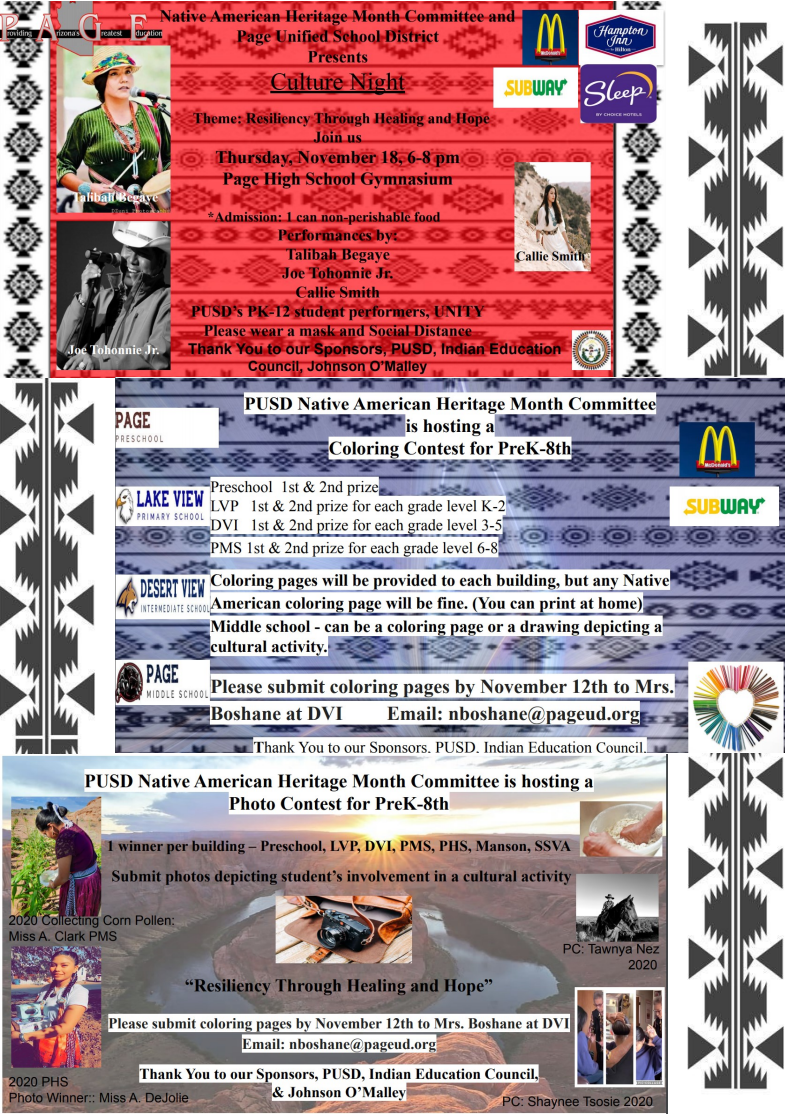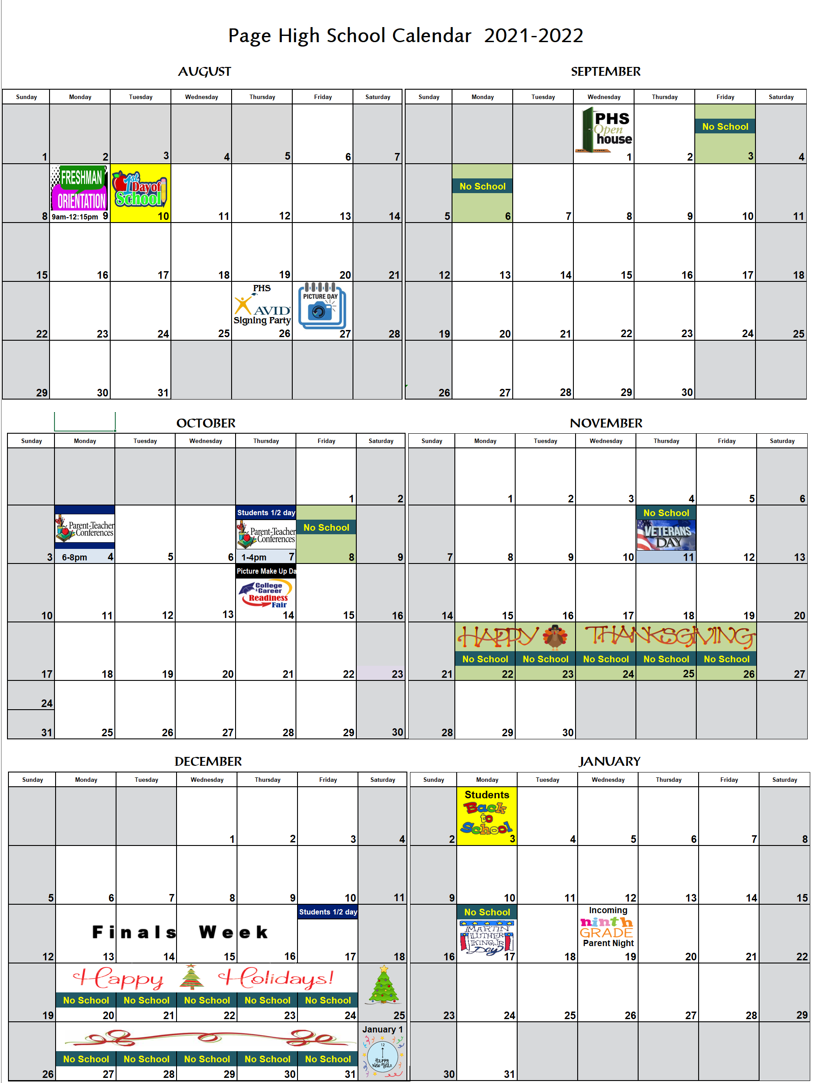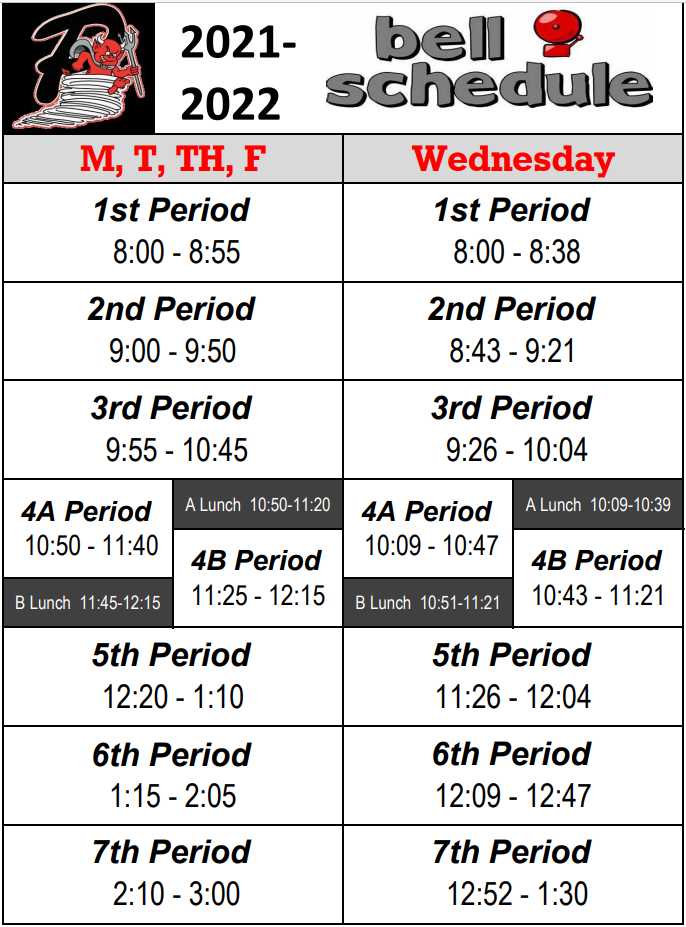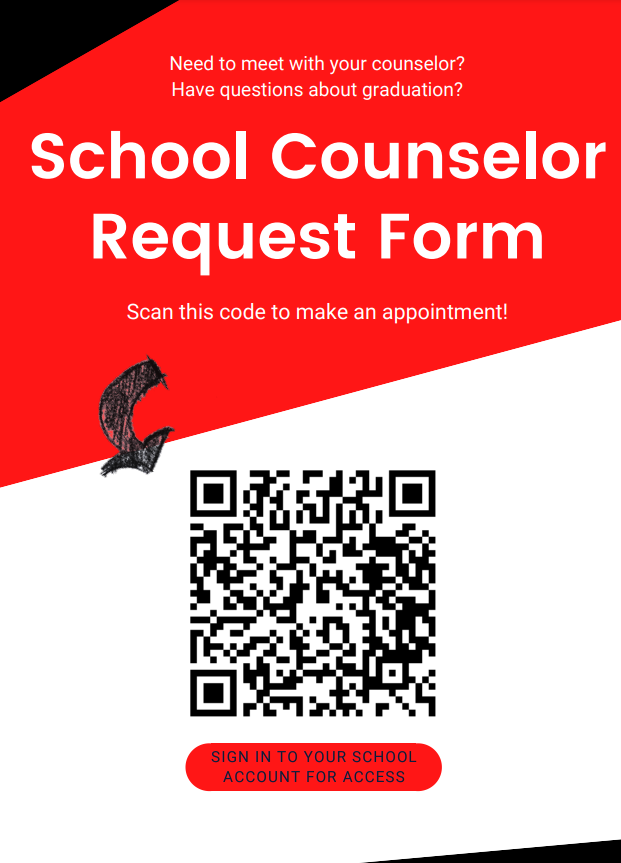 Dear Page High School Parents & Guardians,

Fall is in the air, as well as, student success. Our students have settled in to the 21/22 school year and are doing a wonderful job in the classroom. We appreciate having the students back on campus and your support as we head into the heart of the school year.

Students are taking Benchmark Assessments in certain designated Math, English and Science classes. It is important for the students to bring their Chromebook with them as the assessments are online and happen regularly. Please make sure you are communicating with your child in regard to how they are doing in all of their classes. Remember students have seven periods each day and classes are 50 minutes in length with the exception of Wednesdays. The expectation for our teachers is the students are learning from bell to bell.

We could use your support in a few items for the success and safety of our campus:
Please pick- up and drop off your student only at the front of the High School; there should be no pick- ups or drop offs in the CAB parking lot during the school day.
The school day is from 8:00am until 3:00pm; students should be on campus by 7:45am to allow them time for breakfast and to arrive at class on time.
Students continue to be tardy to class throughout the day; please speak with your child about the importance of being on time and how important it is as a life skill.
Students have the privilege of leaving campus for a thirty-minute lunch, but they need to be back on campus and have eaten their lunch during that thirty minutes. Eating lunch in the classroom is not conducive to learning and arriving late from lunch can have that privilege revoked.
We appreciate your support in all of these campus expectations. As we progress through the school year please do not hesitate to communicate with your student's teachers and Administration if necessary. Thank you for being a part of the Sand Devil Way and encouraging your student to: Work hard, Be kind and Get involved.

Until next time,

Mr. Leigh Guenther, Assistant Principal
Page High School:

Home of the Sand Devils

Stay healthy and take care, Sand Devils.

Page High School is located in Page, Arizona, a city born just over 50 years ago with the creation of the Glen Canyon Dam and Lake Powell. We serve over 750 students in grades 9-12. Our school offers a diverse selection of educational and extra-curricular opportunities for our students. We're proud of our dedicated staff and the success of our students.